Raw, Freeze-Dried Foods And Treats For Dogs And Cats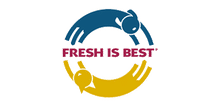 Bark N Scratch Outpost is proud to carry Fresh is Best in Milwaukee, Wisconsin. President and Founder of Fresh Is Best®, Stacy LaPoint, started this company to achieve her goal of producing a human-quality, raw, grain-free, natural pet food and make it available to care-givers on virtually any budget. As an avid pet lover, Stacy began her interest in pet nutrition when her dog Jade, a 6 year old German Shepherd, was diagnosed with Addison's Disease (an auto-immune disorder) in March of 2000. It was that research, to help Jade live with the disease, that led her on a journey of changing her own way of thinking about pet nutrition, food, health and longevity. Stacy started preparing dog food at home with several well-known authors' books on pet nutrition as her guides. That led to making food for the pets of several friends and family, whose interests were piqued when they saw the success of raw feeding. Word continued to spread and soon there was a waiting list of people wanting fresh food for their pets. She took on the help of an animal nutrition scientist and, with this support, was able to ensure that the accepted nutritional profiles for dogs and cats, as determined by the Association of Animal Feed Control Officials, are met or exceeded in each recipe.
Come visit our pet supply store in Milwaukee, WI specializing in quality food, treats, and supplies for cats and dogs.